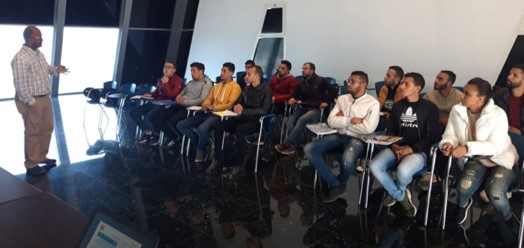 Casablanca, Morocco—With the start of TDM Aerospace's first class of sixteen trainees at the Institut des Métiers de l'Aéronautique (IMA) on April 1st, a new era was launched in Morocco's aerospace history.  TDM represents a number of firsts—first Moroccan-owned Tier 1 aerospace supplier; first in the Boeing Ecosystem created under the MOU between the Kingdom and Boeing; first Boeing long-term contract awarded under the MOU.
Radouane Boukraa, Production Manager, and Fatima Tchiche, Human Resources Responsible, were on hand to greet the new class with IMA Director General, Patrick Menager.  Mme. Tchiche remarked that these select few had passed the rigorous, character-based selection process.  "All are welcome at TDM," she remarked.  "A special few are invited to stay."
The sixteen-person class will undergo 14 weeks of aerospace process, standards, and skills training.  This is followed by 12 weeks of on-the-job training at TDM.  A second class of equal size will follow the graduation of this first group.  TDM will number approximately 60 employees by the end of 2019.
At full capacity, TDM will employ nearly 300 team members.  Deliveries to Boeing from the new facility begin in early 2020.