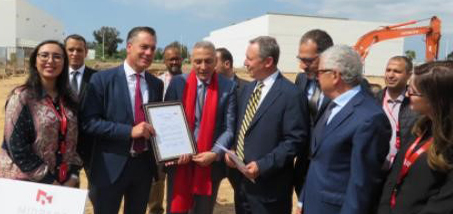 Casablanca, Morocco-On April 8, 2019, Minister Moulay Hafid Elalamy presided over the ground breaking ceremony for TDM Aerospace's 3000 square meter production facility in the Midparc Free Zone at Mohammed V airport. The event marks the official start of the construction phase which cuhninates in TDM's occupancy in September of this year.
Chief Executive Officers Juergen Viehrig and Lou Winoski presented Minister Elalamy a framed replica of the signed Boeing contract, which propelled the creation of TDM, remarking, "We celebrate this milestone that is made possible because of your vision and tenacity in realizing the promise of the MOU between the Kingdom and Boeing.–
The TDM co-founders also recognized the extraordinary contributions of M. Hamid Benbrahim El Andaloussi, the father of the 140-strong Moroccan Aerospace Industry and visionary leader behind its Stage 2 development. In Stage 2, the industry will more than double in size and become a global destination for Tier 1 capabilities in structures, systems, interiors, and propulsion. TDM Aerospace is the first company in the Boeing Ecosystem created under the MOU and the first in Stage 2.
At full capacity, TDM will employ nearly 300 team members. Deliveries to Boeing from the new facility begin in early 2020.