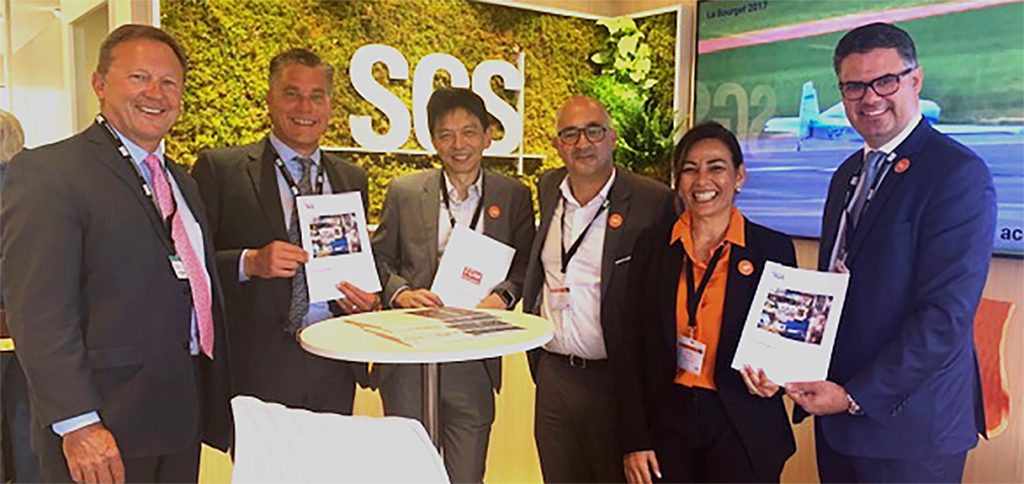 Le Bourget — On opening day of the biannual Paris Airshow, TDM Aerospace signed a partnership agreement with SGS for Certification and Testing services. Under the terms of the agreement, SGS will integrate with TDM's production processes by operating the radiographic and non-destructive test cell in TDM's lean manufacturing system in Casablanca, Morocco. In phase one, SGS Morocco will implement and outsource all the services with the collaboration and support of SGS Aeronautics, France. In the second phase, SGS Morocco will provide all the inspection services for the long term.
TDM co-founders and chief executive officers, Lou Winoski and Juergen Viehrig, were on hand for the signing with SGS's global leadership team.  Mr. Viehrig remarked, "This partnership agreement is a huge endorsement of TDM's vision and a key velocity enabler in our plan to qualify and ramp-up production for Boeing."
About TDM Aerospace           
Founded by US-based Homeric Enterprise Engineering (H2E) and funded by the Moroccan Aerospace Investment Company (MAIC), TDM is the first Moroccan-owned company to earn a Tier 1 contract with an aerospace Original Equipment Manufacturer (OEM).  TDM is a low-cost, high-velocity enterprise which will produce metallic tube and duct fabrications in a new facility located in Midparc Casablanca Free Zone at Mohammed V airport. TDM is also establishing a focused supply chain in Morocco to support its operations.
About SGS     
SGS is the world's leading inspection, verification, testing, and certification company.  Recognized as the global  benchmark for quality and integrity, SGS operates a network of more than 2,600 offices and laboratories across the world, employing over 97,000.  SGS—When you need to be sure.