Casablanca—On March 7, 2020, Bureau Veritas issued Certificate Number 7368403-Rev0 to TDM Aerospace, attesting to its qualification to EN 9100:2018 for Manufacturing Tubes and Ducts for the Aerospace Market.
According to Asmaa Elwahbi, Quality Manager, "This milestone represents a significant achievement for TDM and is a credit to our entire team.  In nine months, we literally wrote an entire Quality Manual from scratch, trained all team members, and demonstrated the robustness of our processes to the Bureau Veritas Auditors."
Next up is Boeing Quality Management System (BQMS) which is expected in the coming weeks.  Despite the state of emergency in Morocco due to the coronavirus, work continues unabated on the company's project plan which remains ahead of schedule.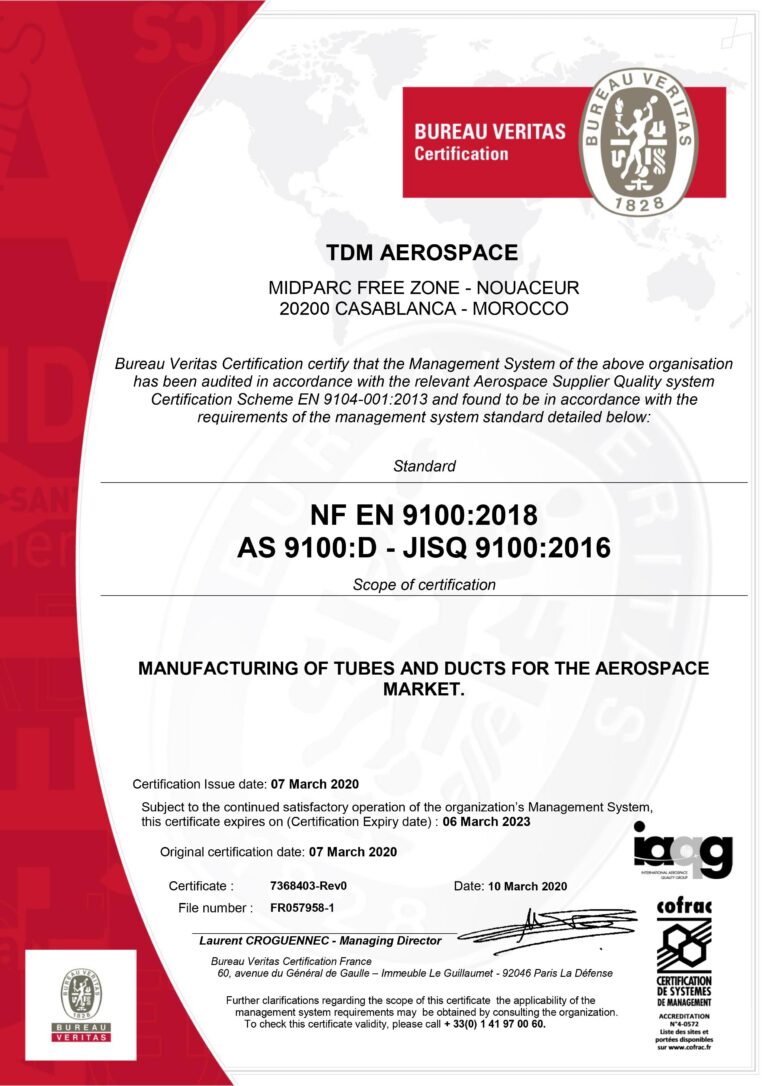 Founded by US-based Homeric Enterprise Engineering (H2E) and funded by the Moroccan Aerospace Investment Company (MAIC), TDM is the first Moroccan-owned company to earn a Tier 1 contract with an aerospace Original Equipment Manufacturer (OEM).  TDM is a low-cost, high-velocity enterprise which will produce metallic tube and duct fabrications in a new facility located in Midparc Casablanca Free Zone at Mohammed V airport. TDM is also establishing a focused supply chain in Morocco to support its operations.