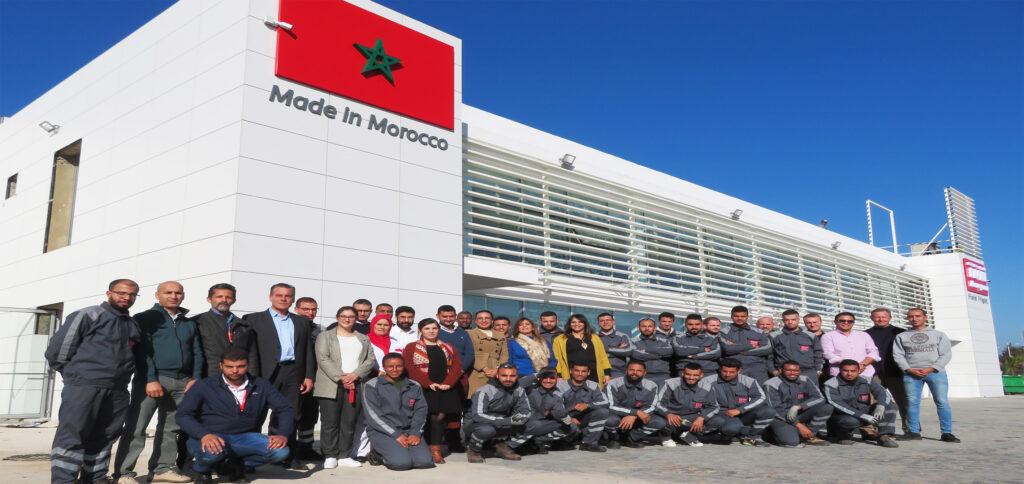 Nouaceur, Casablanca—With the installation of its distinctive "Fluid Flight" logo and Moroccan flag on their recently completed factory in Midparc, TDM Aerospace employees marked the beginning of a new era in Morocco's burgeoning aerospace industry on November 27, 2019.
Emblazoned below the flag, the words "Made in Morocco" proudly proclaim that TDM is the first of a new kind of aerospace enterprise in the Ecosystem created through the MOU between Boeing and the Kingdom in 2016. According to chief executive, Juergen Viehrig, 'Made in Morocco' refers "not only to the products that we will produce here, but more broadly to the fact that TDM, the company, was made in Morocco with Moroccan investment—the first majority Moroccan-owned Tier 1 supplier in the Kingdom's aerospace history."
Inside the factory, TDM's production team is working
with on-site supplier technical teams installing, training, and validating
production equipment and processes in an aggressive schedule to achieve Boeing
qualification by mid-2020. The initial
EN 9100 Aerospace Quality System audit will be complete in December of this
year.
About TDM Aerospace
TDM Aerospace is a tube
and duct fabricator located in the Midparc Free Zone, Casablanca, Morocco. The company was founded in 2018 by H2E, a
US-based aerospace advisory firm led by Lou Winoski and Juergen Viehrig. Designed for high velocity and low cost, TDM
is the first Moroccan-owned Tier 1 supplier to the aerospace industry.


About the Moroccan Aerospace
Investment Company (MAIC)
MAIC is an
aerospace investment group owned by leading Moroccan institutional and
private investors. MAIC's investment approach is to be a long-term
strategic partner of technology and industrial groups seeking to accelerate
their global international development by leveraging Morocco's aerospace
ecosystem and competitive advantage.
About Homeric Enterprise Engineering (H2E)
H2E designs businesses for optimal performance through
planning, process, and execution to achieve maximum enterprise value. With offices in Seattle and Charleston and
soon in Casablanca, H2E creates compelling, competitively defensible solutions
to significant customer problems by designing and packaging unique supply chain
capabilities to provide significant and enduring value.